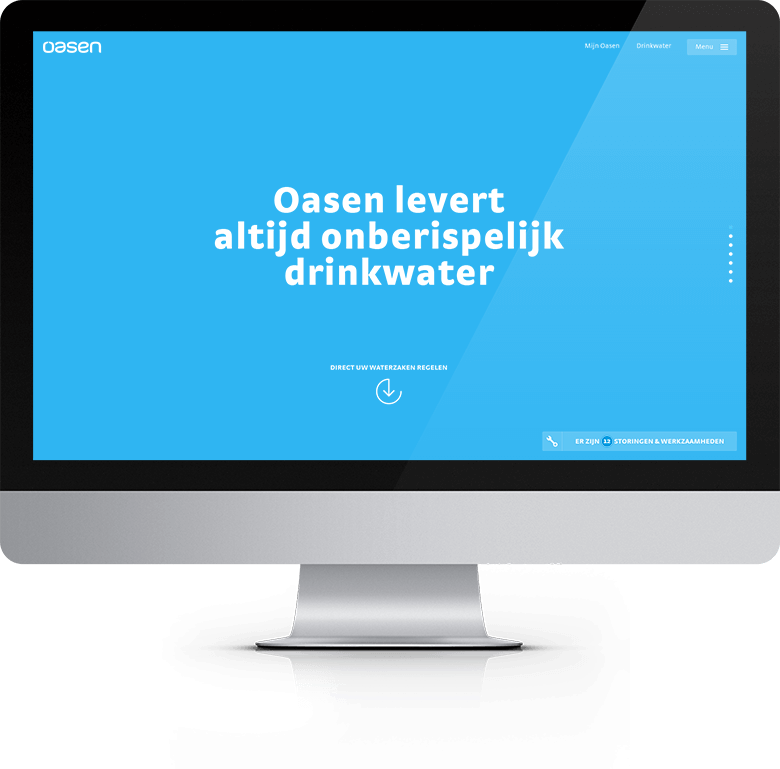 For drinkwater company Oasen we created a platform that combines easy servicing to all of their households
with showcasing their innovative way of looking at creating & delivering the purest tapwater.
Supereasy
UX
The new Oasen site has a supereasy UX to make sure you're immediately able to find what they are looking for. An advanced and simplified structure, combined with a clear mental map, full screen menu and seamless transition animations.
Animations
Since water is key, we wanted to translate this into the design as well. Subtle micro animations and water effects make sure you directly focus on the right places.
Everything you need in one place
Next to getting informed about the high quality of the water and it's heritage, you also visit the Oasen site to find information. The overview on the My Oasen page makes it possible to find the content you need within split seconds. Also, we integrated the particular Oasen area of waterstoring.nl to the website. This extra service zooms in on your environment which enables you to check out 24/7 whether there is any maintenance.
Video & Photography
To give the site the ultimate Oasen feeling, we handled the shoots for the photography and video ourselves as well. We visited all the places where Oasen purifies their water and followed the process from soil to kitchen. This way you get a sneak peek of all the chapters within the company. To extra support the content, we created moving backgrounds.
interactive infographics
At some points we even decided to replace the copy entirely with animated infographics. The infographics are made with Bodymovin which makes them responsive, interactive and available on all devices.
Honours
&

mentions